Advantages Of Buying A New Home VS. An Old Home
June 14, 2016
Purchasing a new home comes with many benefits, some you might not have thought have.
Initially, you may consider an older home to be a more affordable purchase but may not have considered the long term advantages and savings that come with buying or building a new custom built home.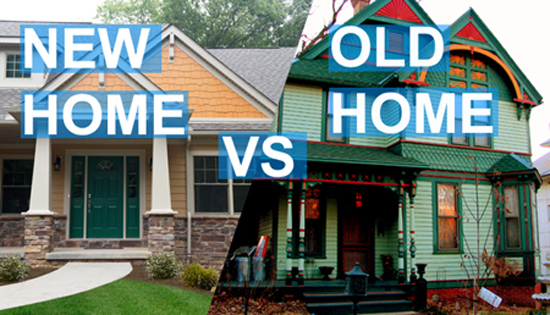 Here are the advantages to owning a new home!
A New Home Is Typically Low Maintenance
With brand new appliances, plumbing and heating, you will be repair free for a number of years. The number one reason people don't like to buy old homes is because there is always the "What if" factor of the unknown that are not visible at first, such as leaking roofs, faulty wiring, outdated plumbing, or furnace breakdowns
A New Home Comes With Choices
New home owners can choose the lot size and location they want, as well as the house type, style and orientation that works for them.
Design Your New Home
You can customize your new home to suit your needs and style. Why settle for someone else's choice when your builder can personalize your home and help choose your favourite type of cabinets, countertops, appliances, flooring or fixtures.  Even the small touches such as your wall paint colours can be personalized before you move into your new home.
Energy Efficiency Is Already Built In
With both building code standards and various new construction material in the marketplace, a new home will be more energy efficient, with modern heating systems and higher levels of insulation, which translates to lower utility bills. New homes built today can use up to 50% less energy than homes built in the early 1980's.
A New Home = New Appliances
New homes come with new appliances, which are usually energy efficient. New appliances will also come with warranties that give you that added assurance. This all translates to better performance, durability and long-term satisfaction.
New Home Warranty Is Included
One of the great things with a new home is the warranty that comes with it. General defects, workmanship and materials are covered for at least the first year, plus other components for an extended time.  Your builder may also offer additional extended coverage above and beyond that offered from the standard warranty.
Technology and Wiring Is Not A Problem In New Homes
New homes may have the latest technology built in or you have the ability have this built in during construction – think alarm systems, speaker systems, Internet wiring, cable, security alarms, central vacuum systems, gas lines – this will save you time, money and holes in the walls of your new home.
Community Amenities Are Included
New developments are designed to promote neigbourliness by carefully balancing the private and public areas through architectural design guidelines, parks and recreational areas, playgrounds for children, shops and services for families, and safe and attractive streets and pathways.
Re-Sale Price
The valuation of your property will be directly linked to the price that the last property of your home type sells for in the development. As developers rarely reduce prices on a development during construction, it could mean your property may increase in value in line with prices for the last homes offered for sale.  This may excel normal house price inflation and your property will then be forever linked to the highest price achieved for the same house type. The earlier you buy in a development, the greater the potential increase.
When you buy a brand new home, you get the best of both worlds – all the traditional value you expect in a home, plus the advantages that only a new home can provide.
Let's stay in touch! We'd love to hear about your future home needs and we'd like to help you get into the quality home of your dreams.
Your Community. Your Home. Your Style.