Our Vision
An authentic community
True Front Porch Living at its Best
Our vision at Arbutus Properties is to create a community to call home. We strive to bring back true front porch living back so that you get to know your neighbours and friends. This multi-generational masterplanned new community is ideally situated to take full advantage of a neighbourhood lifestyle. So we want to provide urban conveniences you have come to expect in a new home development in Saskatoon. The Meadows is close to schools, shopping, parks and recreation. Surround yourself with natural green space and landscaped boulevards. The Meadows is everything you want for today and dream for tomorrow.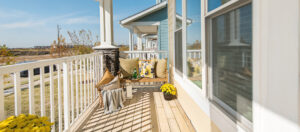 Planning the future
As classic homebuilders, our vision for The Meadows is reminiscent of a simpler time with Craftsman style homes nestled amongst a traditional streetscape. While modern in every detail, the homes for sale at The Meadows use a variety of vintage colours and distinctive architectural details like gabled roofs, decorative brackets and handcrafted stonework to create the warmth and characteristics of a more traditional neighbourhood. Every new home is required to have a generous front porch to encourage neighbourly living and features every front yard beautifully landscaped by the developer.
Architectural integrity at The Meadows is maintained through careful planning and strict building guidelines to protect and enhance the value of each home.
The Masterplan