How to Move Before Christmas with Ease
December 07, 2016
Moving into a new home can be a stressful ordeal.
There are a lot of things to be mindful of when moving: packing, enrolling in new schools if moving to a new neighbourhood, familiarizing yourself with your new drive, getting your children ready for the new school and balancing work while taking care of all of the above.
Now, imagine doing all of this while adding the pressure of the Christmas holiday season!
Have no fear, if you are moving into a new home before Christmas, we have a few tips and tricks to make this transition as smooth as possible on you and your family.
Step One: Hook Ups and Bills
Before you move it might be a great idea to have cable, phone, internet, gas and power hooked up in your new home the day before you get there.
Talk to Sasktel/SaskPower/Shaw Cable about having power, phone, internet, gas, etc disconnected from your current home two days AFTER you move out just in case something happens. If you have the power turned off that day, but then problems arise you may experience complications the following day.
Step Two: Take Care of The Kids
On the day of the move plan a sleepover. Drop your children off with their grandparents, uncles, aunties or friends, the morning of the move. This will allow you to focus on items, proper packing and your children will be a lot happier hanging out with loved ones rather than hanging around waiting for you to pack, unpack and pay attention to them.
If you have the day to move and your children are having a sleep over, you will have the night to unpack, get their rooms ready and set out some items to occupy them once you pick them up the next day.
Additionally, you will have time to set up your home for the holiday season before your "little helpers" arrive.
Step Three: Take Care of The Snow
Ensure driveways and walk ways are shoveled and salted before the movers show up. If you are moving yourself, ensure you have shoveled and salted your driveways before you get out there. It would be a catastrophe to be carrying large heavy items and then falling and injuring yourself on ice or snow on your driveway.
Step Four: Inform Canada Post and Inform Loved Ones Of Your New Address
During Christmas time you typically receive notes, cards and small packages in the mail. By sending out your new address to friends and family before your big move, you can help them address your mail properly. If you inform Canada Post of your move they also ensure mail is sent to the correct address for you.
Step Five: Clearly Mark Your Christmas Decor
Typically when we move, we place storage items in the back of the moving truck. Since you are moving during the holiday season it might make sense to mark all of the Christmas boxes with a red dot or some type of marker so you know to leave those items inside your home. You don't want movers taking those items to the garage or down to the basement only to have to trek them back up unless they are outside decor items.
Clearly mark inside decor and outside decor so that there is no confusion about what items go where.
Step Six: Stock The Fridge
In the spirit of the holidays – make sure your fridge is full of holiday food.
Since you will be moving, you can pre-order your food from grocery stores and pick it up on the day you request.
This will also alleviate the stress of packing food and keeping it safe during the holidays.
Step Seven: Celebrate
Moving is hard. Moving over Christmas is uber hard!
Celebrate the fact that you have moved. Celebrate the fact that you are in a new home.
Pop open a bottle of bubbly, start the new fireplace, pop open a bag of chips and enjoy!
Our Holiday Showhome is located at 696 Meadows Boulevard. Of course if you'd like to see any of our other Showhomes, we'd be more than happy to take you on a tour. Contact us at any time!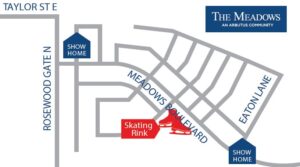 Happy Holidays and we hope you enjoy our twinkling lights and ice-skating at The Meadows!
Your Community. Your Home. Your Style.