NEW HARVEST SHOWHOME SUMMER PROMO
July 09, 2019
We are so excited about our new Harvest Showhome featuring walkout patios just in time for summer. Our newest building has various plans to choose from but only this larger end-unit townhome can be yours…since we presold the other one.
This Showhome has it all with 1424 square feet and includes 3 bedrooms and 2.5 bathrooms, which is just as big or bigger than some single-family homes. Some of the features of our new Harvest Showhome that we think you will like include:
(1) Walkout Patio
We think the best thing about this Showhome and this new building at the Harvest Townhomes is the walkout patio directly from the open-concept kitchen. How much easier can entertaining be this summer? Go directly from kitchen to patio to the vast greenery and enjoy townhouse living this summer without all the regular maintenance of a house.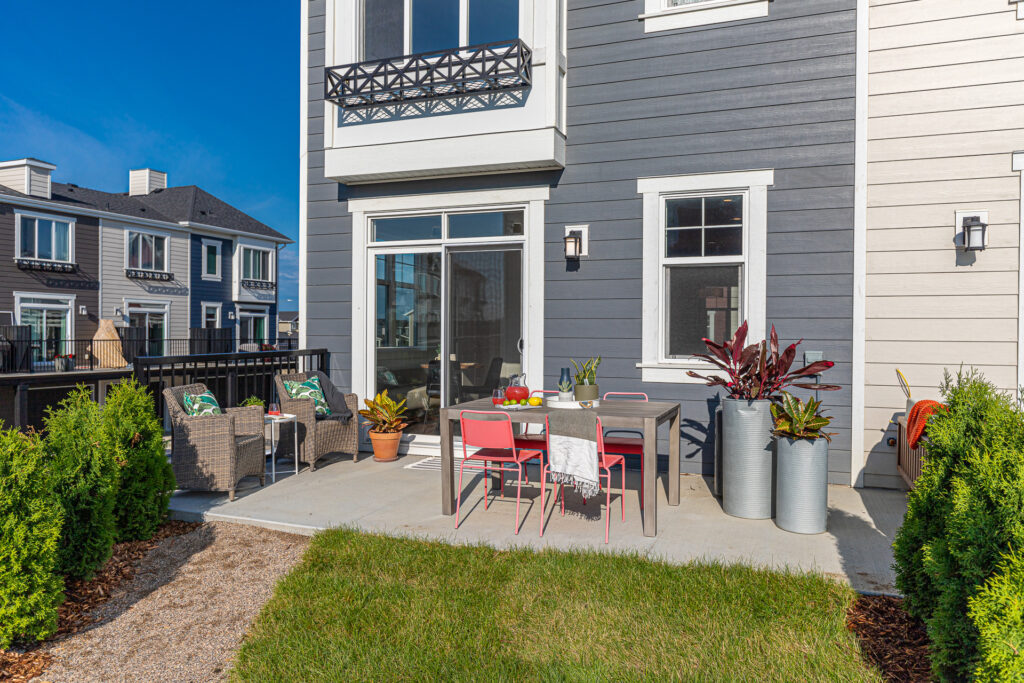 (2) Tandem Attached Garage
Do you not look forward to walking outside to your car especially during the unpleasant months in the winter? Are you looking for more storage space, a workshop or perhaps even a personal home gym? With an attached garage in a townhouse, you may have to walk up a set of stairs but we think this will be appreciated when the time comes. A bit more exercise to stay warm and dry in the winter is surely worth it.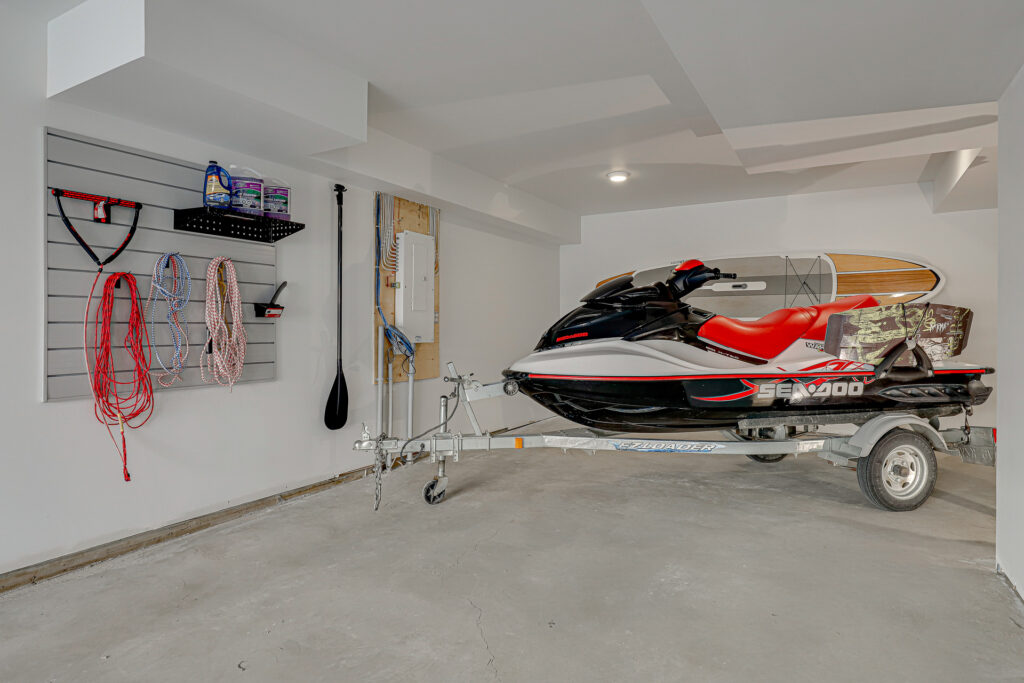 (3) Extra Luxury Finishes
Special to this Harvest Showhome and all homes in this building are the electric fireplaces. Enjoy the outdoors in the summer and cozy up in the living room in the winter. During our summer promotion, we will also include a free Air Conditioning unit so you can enjoy your home even more if it gets too hot outside. As with all our townhomes, we include luxury finishes like stainless steel appliance, wood laminate floors, quartz countertops and this particular building also features beautiful tiling around your bathtub and showers.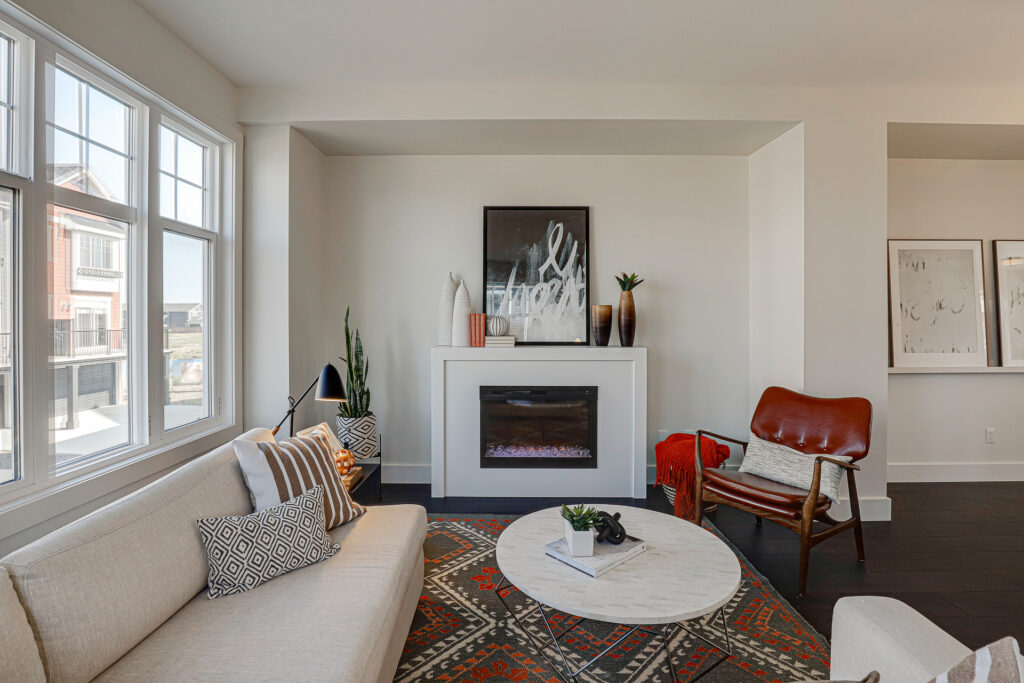 (4) Natural Light
The new Harvest Showhome is our last end unit in this building and our most popular. Natural light pours into the extra large windows and patio doors. Overheight 9-foot ceilings make this home feel so much bigger that you will feel like you are walking into a regular house.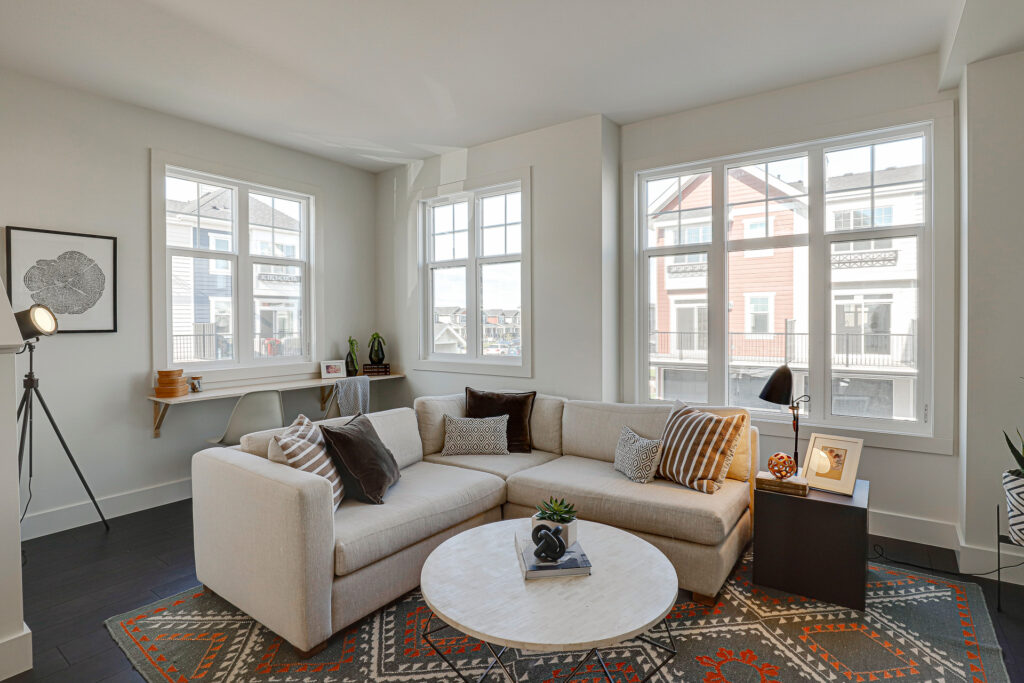 (5) Open-Concept
Do you love open spaces and entertaining and having everything and everyone together? If so, this is the perfect floorplan for you. Not only is the main floor one large great room with your kitchen, living and dining area but there is also room for an extra breakfast nook and desk area. Plus there's even a convenient powder room for you and your guests.
There are so many more features to this Harvest Showhome and it is move in ready for you today.  This home is a must see!
Keep an eye out for all our move-in ready Harvest Townhomes. We are sure you will find one perfect for you.
Come visit us at #624 – 701 Meadows Boulevard!
SHOWHOME HOURS
#624 – 701 Meadows Boulevard
Weekends 1 – 5 PM
For more information, visit any of our Showhomes or contact us to schedule an  appointment. We would be happy to accommodate your schedule.
Your Community. Your Home. Your Style.