New Year! New Resolutions! New House!
January 14, 2016
Have you resolved to purchase a new house this year? There is no better time than now to start planning for your move.
Let's start off with the fun part – you get to decide what you want! Start thinking about where you want to buy your new home. When do you want to purchase your home? What does your timeline look like? And then the most important question –  what type of home will you purchase?
Do not rush into this decision! A new home is a serious commitment and you need to choose a neighbourhood that you can live in happily for several years to come. Choose a neighborhood that is close to everything you need. Having access to freeways, parks, schools, shopping, and great neighbours are essential components of quality of life.
It is also a good idea to prioritize your priorities!
Understanding what you need makes difficult decisions easy. If you cannot build a home or find a home at your price point with all the features you want, then you will be able to determine what features are essential and which features are deal breakers. For example: would you trade bedrooms for a larger kitchen? Detached garage for more square footage?
These decisions will be easy if you have your list completed before you begin your search.
RESOLUTION ONE:
Now is the time to get your finances in order
It is crucial that you are honest with yourself and understand what you can afford. It would be good to build a spreadsheet and write down: What you can afford, how much you can put towards a down payment, mortgage payments (monthly, biweekly, or weekly), and then determine if you have enough left over for closing costs and property taxes.
RESOLUTION TWO:
Shop around for lenders
Find a bank, broker, or mortgage specialist that works for you. Getting pre-approved for a house means you have met with a loan officer and you should easily qualify for a given loan amount.
Based on your meeting, the lender will provide you a pre-approval letter which indicates your borrowing power. This pre-approval letter can be shown when putting an offer on a home to demonstrate your ability to finalize the home purchase.
This paper may seem trivial but it provides security to the owner as they most likely do not want to accept an offer that will fail due to lack of financial ability.
RESOLUTION THREE:
Search and Find Your New Home
Here is where step one comes back into play. You know what you are looking for. You know what you need and now it is time to execute on that plan.
Maintain a file on each of the homes you tour and like.
Rate them. Create a rating scale that is based on your needs, not wants. After you have viewed enough houses and there is a property that continues to come back into your mind and rates the highest on your scale, that is your house.
Sometimes it is the first house you view. That is the house you should buy. Other times it is the 10th or 15th house you look at that is the property for you. Stick to your list and this will be an easier decision.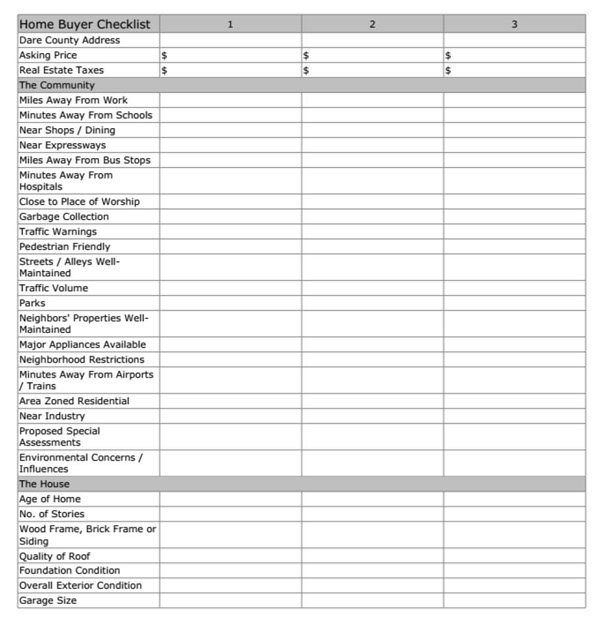 RESOLUTION FOUR:
Buy Your New Home
It sounds simple enough but this is the resolution you will want to pay close attention to. Look over all the details in the offer. Ensure things like fixtures, possession date and or warranty are clearly outlined in this section and ensure you and your lawyer have understood all aspects of the final offer.
Once the offer is agreed upon, title of the property will be transferred from seller to buyer and the buyer will receive the keys and the seller receives the money for the home.
RESOLUTION FIVE:
Finalize Anything That Has Not Been Taken Care of
The paperwork needs to be kept.
Figure out your utilities and set up regular automatic payments if you can. Ensure anything remaining from the previous owner in regards to utilities has been paid in full.  
Replace all locks on the home.
Take a video of the home the day you move in. Note anything that is out of the ordinary (if you purchased a home from a seller). If your home is new, the video will help you with the warranty process from the builder.
RESOLUTION SIX:
Enjoy The Fruits Of Your Labour
You worked hard for your new home so enjoy it. Yes, there were some hard steps along the way and some sacrifices were made, but owning your new dream home was worth it in the end.
We hope you are enjoying your New Year and if you need any support getting into a new home this year do not hesitate to contact us.
Your Community. Your Home. Your Style.