Tips For Cleaning A Glass Top Stove
May 30, 2017
Glass stove tops are sleek and really add that modern touch to your kitchen. A shining, warm, stove is a welcome location for those pots and pans; an open invitation to whip up home made recipes with secret ingredients passed down for generations.
However, the glass stove top does come with it's tradeoffs. The glass stove top is infamous for being hard to keep clean. We all want our house and our kitchen to look like new, especially when we invite people over to break bread so, we've researched some cleaning tips for you!
As always – please test small areas of your stove and appliances before completing a full clean.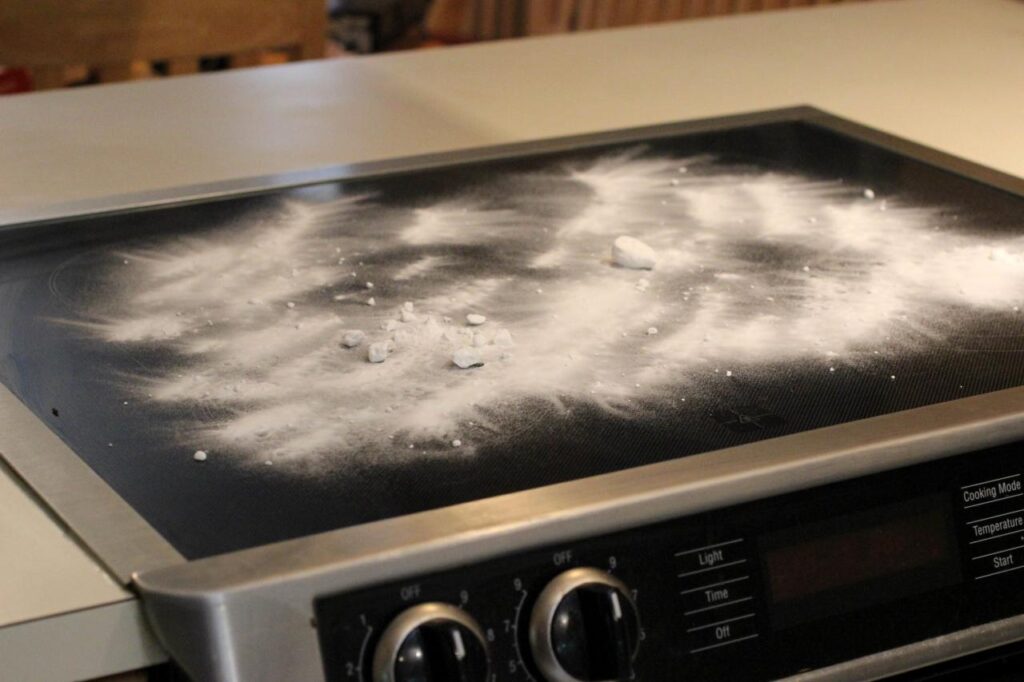 Glass Stove Cleaning Solution One:
Step One:
Grab some vinegar and give your stove top a good scrub/wipe down. You can use any stove top or glass cleaner, but vinegar is typically on hand and inexpensive.
Step Two:
Once the stove has had its initial clean/scrub cover it with a layer of baking soda. Baking soda is a wonderful natural cleaner because the mild alkali helps breakdown grit and grime more easily. The mild abrasive quality will make scrubbing more effective without scratching the glass top. Let that sit for 5 minutes.
Step Three:
Get a hand towel big enough to cover the glass top. Soak it in hot water and wring it out. Immediately place it on the stovetop and let it sit for 20 minutes. This will allow any baked on grime to loosen.
Step Four:
Scrub your glass top and repeatedly wash off/wring out the towel until there is no baking soda left on the surface. Use your muscles to really scrub those stubborn burnt on items.
Step Five:
Once you are certain that you cannot possibly get anything else off the stove it may be time to look at using a razor blade. We must remind you to use caution as you do not want to scratch your stove. You want to use the razor blade to scratch off only residual stains. A graspable razor blade holder is highly recommended for easy, effective and safe use.
Never use the corner of the blade to clean your stove. Only use the blade if it is parallel and flat with the stove. The goal is to lightly scrape off caked on grim. Never to scratch the top of the stove. We cannot stress that enough!
Step Six:
Grab that bottle of vinegar one more time and use a capful or two with a damp cloth to produce that high finish shine.
Assuming all has gone well, your stove should look and shine like new.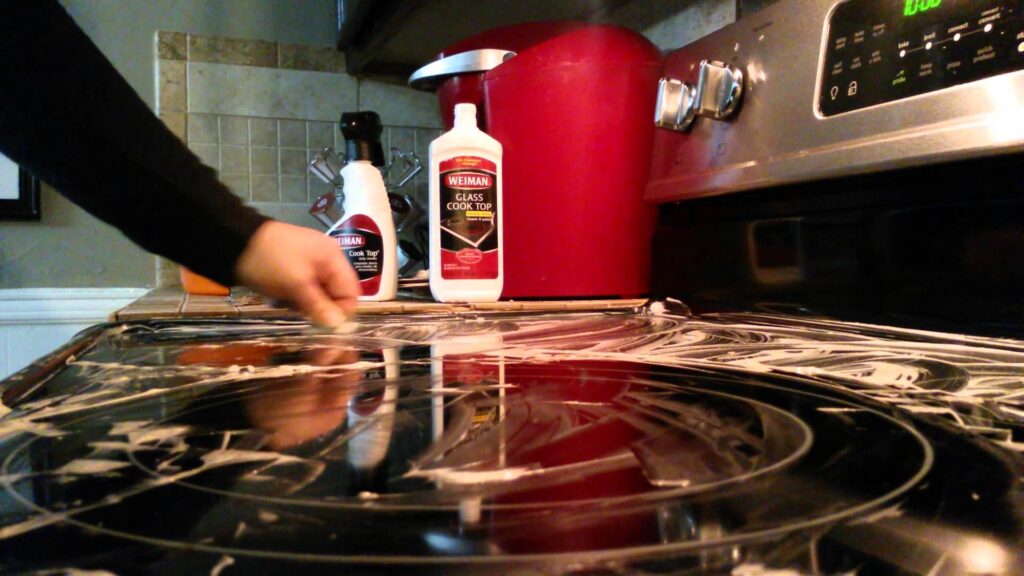 Glass Stove Cleaning Solution Two:
Step One:
Head to the store. Purchase a speciality glass top cleaner designed to remove tough stains.
Step Two:
Add the cleaner to the stove top with enough product to make a nice thick layer across the top of the stove top. Most of these products are thick and should start off as a liquid form and later turn into more of a dry white chalky consistency.
Step Three:
Let the cleaner set for 10 – 15 minutes (or whatever is recommended on the bottle). Use a clean damp cloth to wipe the top thoroughly. Pay extra close attention to the areas that feel rough to the touch.
Step Four:
For really caked on items place the cleaner on the stove but start scrubbing immediately. If your oven came with a scraper – try that. If not, head to Best Buy or Home Hardware to buy a glass top oven scraper. If that does not work, head back to solution one and try the razor blade.
Step Five:
Once you are done cleaning, get a damp cloth and wipe off the top. Your Stove should shine like new.
If you want to stop by and check out some of our glass top stoves in our show homes, please feel free to connect with us.
SHOWHOME HOURS
Tuesday to Thursday 4 – 8 PM
Weekends 1 – 5 PM
Or by appointment.
Your Community. Your Home. Your Style.