Why Should You Live In The Meadows
January 30, 2017
Hi! Welcome to The Meadows! We are so glad you are here.
All of us at Arbutus and The Meadows envision creating communities that enhance your quality of life. We want friendly, family oriented communities with parks, amenities, shopping, schools, convenient transit and we want neighbours in their front yards saying hi to each other, borrowing sugar ~ just like the good ol' days.
If that's what you want – you've come to the right place.
We are committed to being the best at what we do and hope our clients will see, feel and appreciate our tenacity to be the best.
What Is The Meadows?
The Meadows is a multi-generational masterplanned community. It is ideally situated to take full advantage of the neighbourhood lifestyle with all the urban conveniences you've come to expect in a new home development in Saskatoon.
We are surrounded by abundant, natural green space and close to schools, shopping, parks and recreation.
Once of the best features is that The Meadows provides easy access to circle drive so you have a fast and convenient way of getting to downtown Saskatoon.
Where Is The Meadows Located?
We are located in North East corner of Saskatoon. You can find us at the end of Taylor Street or locate us through Rosewood Drive East.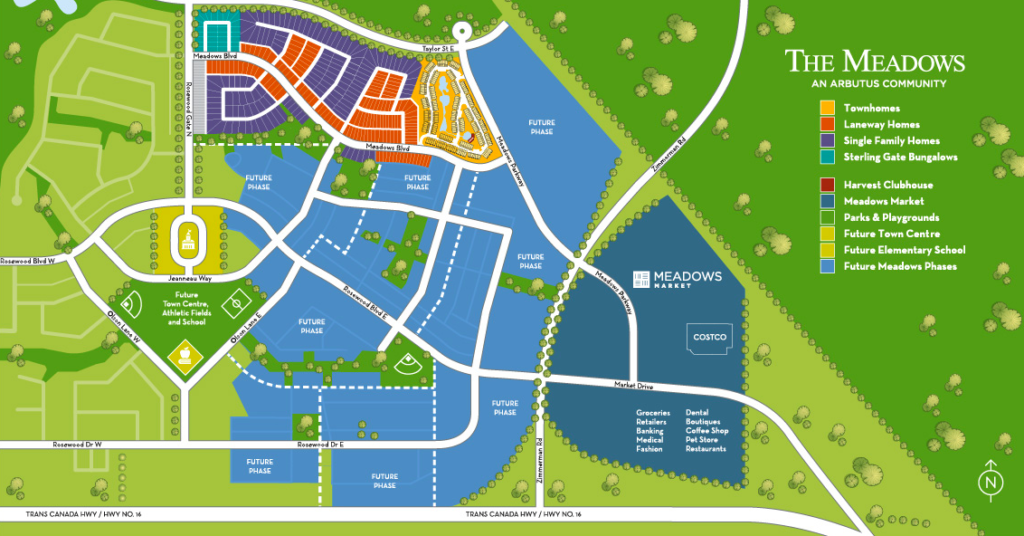 What Does The Meadows Offer?
We offer everything. We know that's a bold statement, but it is true.
When our Masterplanned community is complete we will have:
A public school
A Catholic school
Costco
Meadows Market
Daily amenities
Parks and trails
Recreational spaces
And much much more.
What Type Of Home May I Purchase or Build In The Meadows?
We have single family homes, bungalows in a gated community, laneway homes with a detached garage and townhomes.
Architectural integrity at The Meadows is maintained through careful planning and strict building guidelines to protect and enhance the value of each home.
If you want to build a custom home in The Meadows, we can also do that for you. It's as simple as coming in for a conversation about your wants, needs, square footage and future family.
The Meadows is everything you want for today, and all you'll dream for tomorrow. For all the reasons listed above, that's why you should move to The Meadows. We really have everything you need and more.
SHOWHOME HOURS
Tuesday to Thursday 4 – 8 PM
Weekends 1 – 5 PM
Or by appointment.
Your Community. Your Home. Your Style.